Wadden Sea Day 2022: Who eats whom?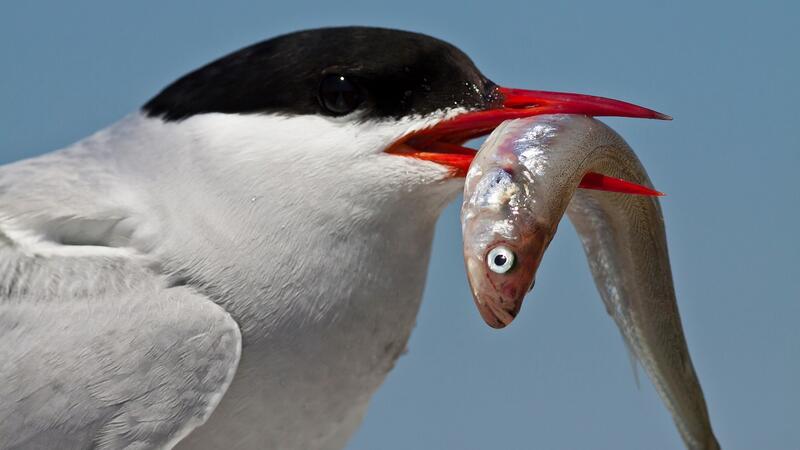 The 2022 Wadden Sea Day titled "Who eats whom? Trophic relationships and their implications for monitoring and management" will focus on trophic relationships in the Wadden Sea and their implications for monitoring and management. Through photosynthesis plants and microorganisms and other primary producers turn energy into organic matter. Species on higher trophic levels like lug worms, snails or mussels feed on this organic matter and they themselves are food for small predators like carnivorous fish, which in turn are consumed by birds, seals or harbour porpoises. Thus, all species within the Wadden Sea ecosystem are linked to each other by their need to obtain sufficient food resources to sustain themselves. These links create specific challenges for the management of the Wadden Sea World Heritage Site.
Climate change and other pressures from human activities have been found to directly affect many species within the Wadden Sea. Due to the dependency between species, these effects can have consequences at higher trophic levels. Management strategies therefore need to consider not only the direct environmental impacts on specific species, but also how changes in the population of one species can affect other species with possible consequences for the entire ecosystem of the Wadden Sea.
At this year's Wadden Sea Day we will hear about the important species at different levels in the Wadden Sea's food web, discuss how they are impacted by anthropogenic pressures and explore collaborations between disciplines to obtain adequate scientific data to sustainably manage the Wadden Sea as a whole.
Invited are policymakers, conservation managers, scientists and non-governmental organizations working in the field.
We plan to hold an in-person meeting at the Wattenmeer Besucherzentrum in Wilhelmshaven, if the pandemic allows. We will keep you informed if there are any changes in the settings of the Wadden Sea Day.
Registration is closed. The event is fully booked.