New Interreg Project DARKER SKY focusses on reducing light pollution in Wadden and North Sea regions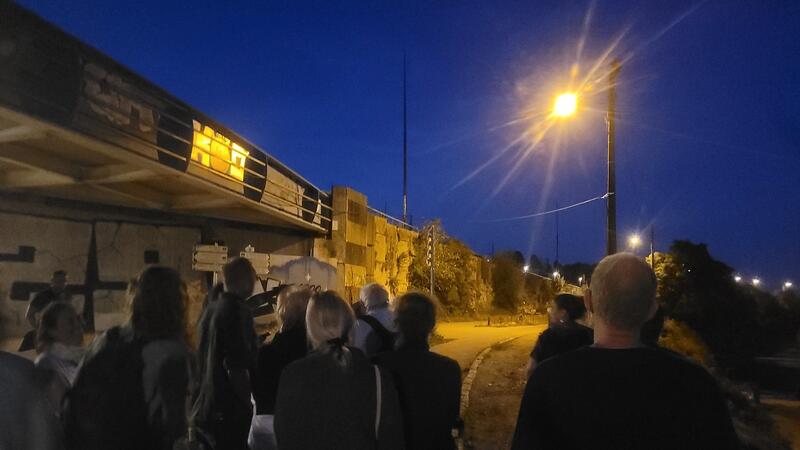 After receiving a green light on the Interreg project DARKER SKY in April, 14 Danish, Dutch, French, and German project partners are thrilled to launch a ground-breaking project. Developed within the framework of the Trilateral Dark Sky Initiative, DARKER SKY aims to reduce light pollution in the North Sea Region and contribute to the preservation of biodiversity and dark ecological corridors. The Common Wadden Sea Secretariat (CWSS) is partner in the 2023-2026 project. The project was officially kicked-off in Brest, France on 5-6 September 2023.
Light pollution, the excessive, misdirected, or inappropriate use of artificial light at night, is increasingly recognised as a cross-regional challenge and serious environmental stressor causing biodiversity loss and habitat fragmentation. A proper reduction of light pollution and biodiversity protection calls out for transnational exchange and cross-sectoral management. Several EU countries, for the first time, consider light pollution in national and regional legislation and strengthen its containment as a mandatory task for municipalities and other users. However, no technical specifications for concrete environmentally sound, cost- and energy-efficient lighting solutions for urban planners and lighting engineers nor a cross-regional strategy guiding public authorities in maintaining/restoring ecological connectivity across the North Sea Region are given.
DARKER SKY aims at reducing light pollution and increasing biodiversity and ecological connectivity in the North Sea area in a transnational and cross-sectoral approach. Among others, it will provide municipalities and ports with innovative measuring, monitoring, and co-design methods for the implementation of new light reduction solutions. The project will further foster the interdisciplinary transnational exchange with good practices and lighthouse demonstrators on environmentally-sound lighting techniques and systems on eight sites in the pilot regions of Brest, Groningen, Friesland, Lower Saxony, and Hamburg. Darker Sky will also support dialogue among local, regional, and national public authorities to develop concrete regional action plans and a transnational strategy for a sustainable policy uptake of light reduction solutions across the North Sea Region.
DARKER SKY supports the efforts of geographically scattered regions and initiatives through best practice exchanges and co-creation. It adds to previous activities of the Trilateral Dark Sky Initiative and directly supports the implementation of the 2023 Wilhelmshaven Declaration as well as the Trilateral Vision on Dark Sky over the Wadden Sea. The preservation of nocturnal darkness supports and further enhances the protection of the Wadden Sea World Heritage Site's Outstanding Universal Value, while making a valuable contribution to the sustainable development of local communities. Within the project, CWSS will identify synergies between the project and other initiatives and networks and will coordinate the development of a transnational strategy on reducing light pollution.
During the kick-off event in Brest participants took a closer look at the interventions planned in each partners region, discussed about the development of a common monitoring framework, and reflected on the project overall objectives. The event was organised and hosted by the Lead Partner Université de Bretagne Occidentale (UBO) and the Municipality of Brest.
Next to CWSS, the project consortium includes the lead partner Université de Bretagne Occidentale (FR); Brest Métropole (FR), Freie und Hansestadt Hamburg -Bezirksamt Altona (DE), Hochschule für Angewandte Wissenschaften Hamburg (DE), Landmakers Coöperatie U.A. (NL), Gemeente Heerenveen (NL), Stichting Van Hall Larenstein (NL), Carl von Ossietzky Universität Oldenburg (DE), Nationalparkverwaltung Niedersaechsisches Wattenmeer (DE), Niedersachsen Ports GmbH + Co. KG (DE), Rijksuniversiteit Groningen (NL), Aarhus Universitet (DK), and Esbjerg Kommune (DK).
DARKER SKY is carried out in the framework of the Interreg North Sea Region Programme (www.northsearegion.eu) under the Programme Priority 3 'A Climate Resilient North Sea Region' Specific-objective 3.2 Enhancing protection and preservation of nature, biodiversity, and green infrastructure, including in urban areas, and reducing all forms of pollution. The programme is funded by the European Regional Development Fund (ERDF) of the European Union. The amount of grant approved is € 2,529,972 in ERDF, the total budget being € 4,216,620.
www.interregnorthsea.eu/darker-sky