Wadden Sea among world's flagship marine protected areas at milestone conference on United Nations 2030 Agenda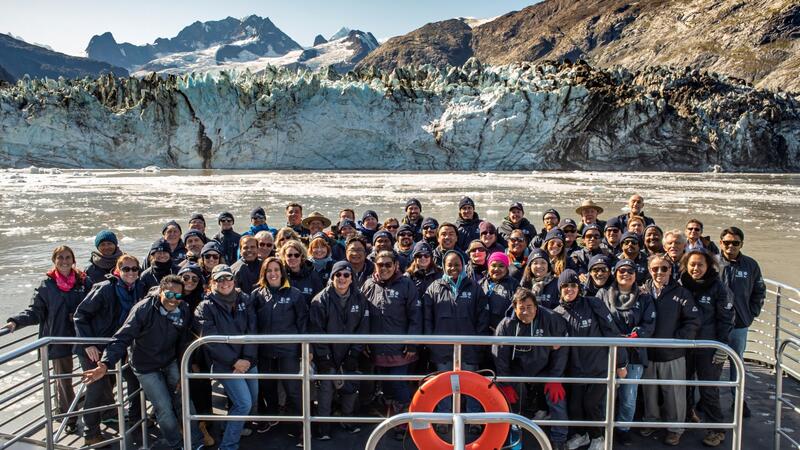 From 4 to 9 September 2019, the Wadden Sea World Heritage was represented at the 4th World Heritage Marine Managers Conference in Glacier Bay, Alaska, USA, to discuss challenges and solutions toward reaching the 2030 United Nations Sustainable Development Goals. The meeting was held in the framework of the UNESCO World Heritage Marine Programme for the 50 marine sites on UNESCO's World Heritage List.
Facing common, growing challenges, managers from these flagship marine protected areas shared best practices and solutions about how to deal with them. As UNESCO World Heritage sites they have received the highest international recognition for conservation and therefore are uniquely positioned to help chart a course forward toward reaching the 2030 United Nations Sustainable Development Goals.
During the 4-day gathering, representatives from 37 different nations including Australia's Great Barrier Reef, Sanganeb/Dungonab in Sudan, Fernando de Noronha in Brazil, the Southern Lagoons in Palau and the transboundary Wadden Sea discussed topics ranging from establishing successful private-public partnerships, climate resilience and adaptation, cooperation with indigenous communities, the use of satellite & space technology and the growing problem of plastics and marine litter. Margrita Sobottka from the National Park Authority "Niedersächsisches Wattenmeer" presented the recommendations of the preparatory international workshop on marine litter, organized by CWSS and the National Park Authority in cooperation with the UNESCO World Heritage Centre, on the island of Norderney, Germany in November 2018. These received a broad response from the conference's participants who supported enhancing the exchange on this topic in future.
Sobottka resumed: "I was extremely impressed by the friendly and open atmosphere of solidarity among all participants. The worldwide outstanding importance of marine World Heritage sites for achieving the UN Sustainable Development Goals in marine environmental protection became more than evident in the course of the conference. I am bringing home to the Trilateral Wadden Sea Cooperation this message from a global perspective to further strengthen the motivation and commitment on collaborative and partnership action for the protection of the Wadden Sea World Heritage."
The Wadden Sea has been cooperating with the marine site managers network since its establishment in 2010 and participated in several events organized by the UNESCO World Heritage Centre. Since 2014, a twinning with the marine World Heritage site National Park Banc d'Arguin in Mauretania has been established also supporting the Wadden Sea Flyway Initiative which covers almost all important migratory bird sites along the East-Atlantic Flyway form South Africa to the Arctic.